I've always thought of artist's studios as places of magic- safe and sacred. The way I often think of churches and some kitchens.
I always remember going to an exhibition in the Pompidou Centre in Paris in the late '90s where Brancusi's studio had been meticulously recreated in the gallery and it thrilled me.
Likewise the opportunity to peer into studios or home work spaces- famous or otherwise- always gives me a sense of the sacred- Barbara Hepworth's house and studio in St.Ives comes to mind. The place where all the decisions are made, the crises navigated and the creative flow enabled.
The practicalities of keeping a studio, and paying for it are another matter though, and require some shift in mindset (not least when an artist has other work or a day job). The idea that only 'professional artists' pay for studios, no doubt comes from the very real problem that you must earn at least enough to pay the rent. When struggling to sell and promote work it seems unjustifiable to pay for space to work.
And yet…this makes a chicken and egg situation for many artists. Because without a space (it doesn't have to be big), to be alone, create, see, look, pace, make a mess, stare at the walls- good work cannot be made. And indeed the type of space the artists works in can be said to influence the artwork- in both physical attributes and thought processes.
Generally speaking, I've mostly worked form home, and currently have a, very small, shed studio in the garden. Though I have had periods in outside studios and I have just begun 6 months at Jamaica Street Studios in Stokes Croft, Bristol. This a well known and established, 3 floor industrial building, whose artists and open studio events are part of the Bristol scene and houses many 'professional artists'.
Moving in has been a landmark for me- both in terms of the way I see myself as an artist and the way I'm making artwork. Being forced to find space last year to complete large work for which I received a bursary, made me realise how much I'd been suppressing my desire for a larger space. The flow and freedom I found when working in a larger space was revelatory. It's difficult to tell whether the work forced me into larger spaces or the larger spaces forced me to work in a different way.
Being in Jamaica Street Studios has also made me see myself as a 'professional' (a term that has felt uncomfortable but which I'm trying to lean into), surrounded as I am by a bubble of people who don't feel the need to justify what they do to anyone, many of whom make a living from their art, and don't see that as an impossible dream.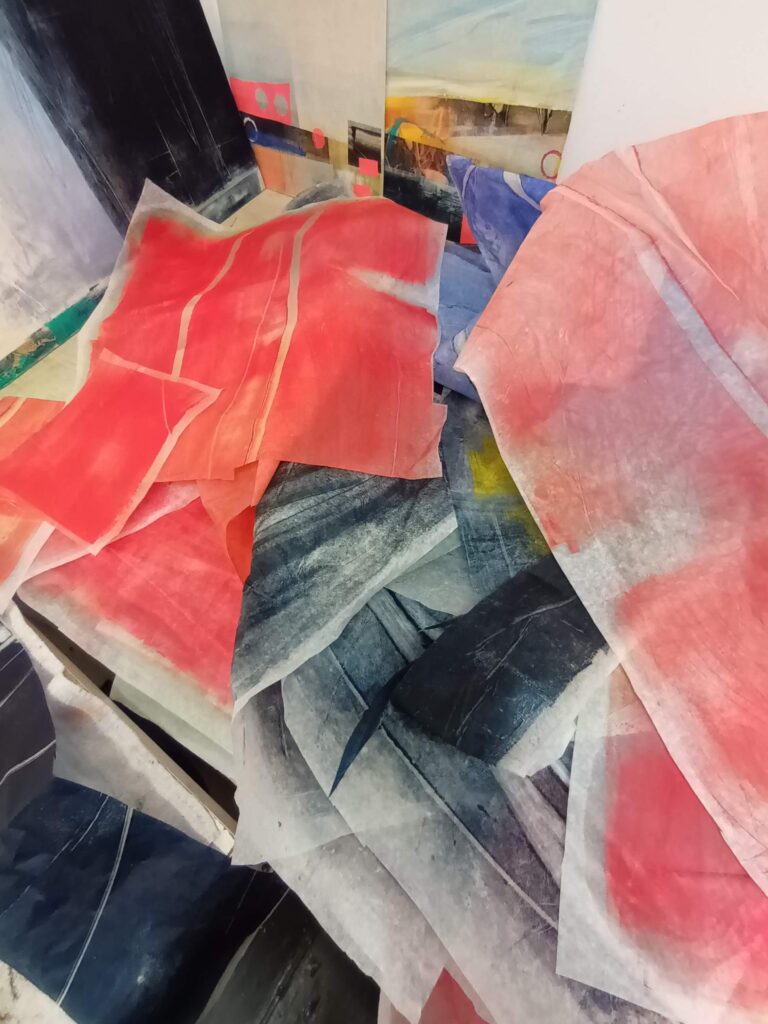 So yes, an outside studio involves higher motivation to go, transport time and cost and rent to pay, but it also provides a safe and sacred space, away from housework and errands, surrounded by inspirational people.
So for now, I'll pay my rent and step up to the mark.