New online workshop dates:
September 18th 1-4pm (British time) £35
November 27th 10am-1pm (British time) £35
plus I'll be launching my first Playful Printmaking self-paced video E-course in October. Click below to receive emails about the course.
This will be a comprehensive course covering all you need to know to set up your very own temporary or permanent hand printing studio, step-by-step how to hand print, and what you can do with your prints after you've made them.
Online Workshops
My online workshops are a great introduction to printmaking or kickstart to your artistic practice- no need for a press or print studio.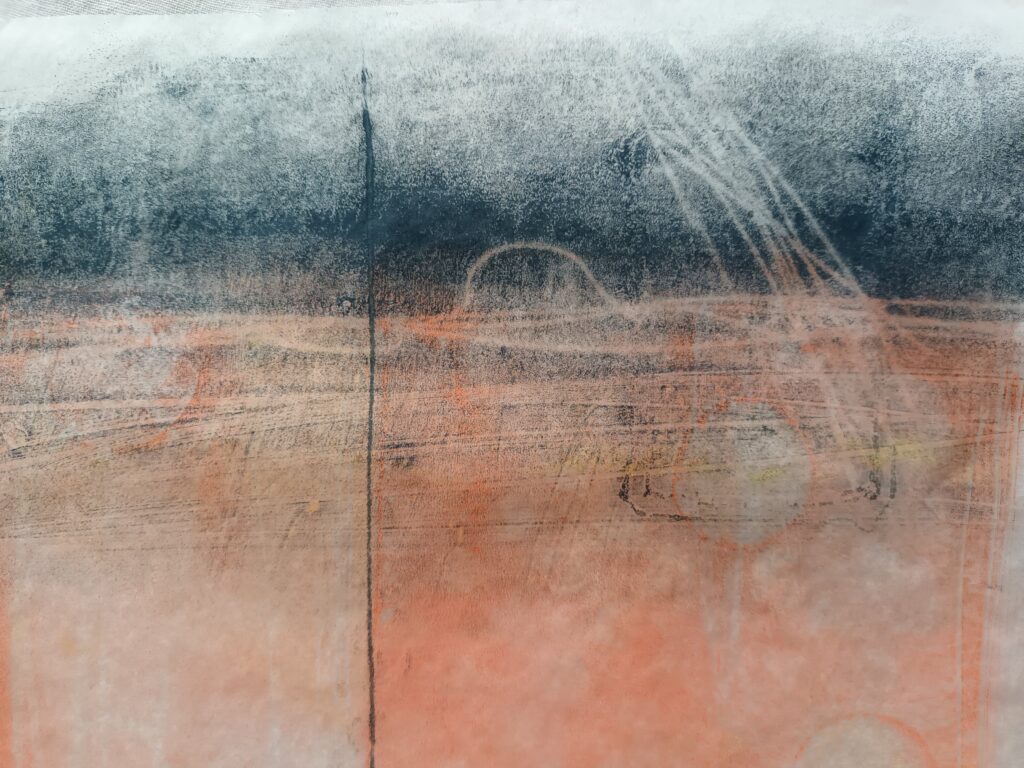 This is a wonderful way to spend a morning learning a simple creative technique that you can do at home with no special equipment or previous artistic experience. These workshops can also serve as a kickstart to an existing artistic practice..
Hand mono-printing creates unparalleled marks and is full of joyful surprises and serendipity.
There will be parts where you watch as I demonstrate step by step hand printing techniques and parts where you can get stuck in making your own images, while we all work alongside each other, with plenty of time to ask questions and chat. A comprehensive materials list is sent out before the workshop, with stockists and home found alternatives.
You should come away with the confidence to print at home as well as several prints to mount and frame to use in other artwork.
Who are the workshops for?
Beginners or those with some printmaking or artistic experience. If you've ever wanted to try printmaking but been put off by having to join a print studio then this workshop is for you.
What will the workshop cover?
A short introduction to what hand mono printing is, and some inspiring examples.
A chance to choose and mix a palette of colours, and advice on your working area.
Demonstrations and practical sessions on rolling out ink, manipulating it, adding texture and taking a print by hand. There will also be demonstrations of masking out, layering up textures and colours, creating line work and forms, adding definition to your prints with stamps, stencils and printing with objects.
Advice on how to dry and store your images, was well as how you might like to mount and frame them or use them in other art work.
Who is your tutor?
I'm an artist educated to degree level in illustration and with 20 years of DIY home hand-printing experience as well as extensive print studio experience (I'm a member of Spike Print Studio in Bristol and was a recipient of the University of the West of England scholarship in 2018). I have led workshops with children and adults, those with extensive experience and those with none.
What do people say about my workshops?
'All very clear and opened up possibilities for development'.
'I like the format of alternating demonstrations and practice, helps to build in stages'.
'Excellent materials list and guidance'
'I liked your relaxed manner and the pace'
'Plenty of ideas to take forward'
'It was perfect because you gave us plenty of time to explore'
'Calm, friendly and positive'
'Ruth encouraged all levels of ability'
'Clearly laid out and explained'
'The camera views were good to watch alongside the instruction'
What do I need to take part?
You won't need much specialist equipment, but a rubber roller, a smooth surface to roll ink or paint onto, thin paper and ink or paint are the essentials. A comprehensive materials and equipment list is sent out before the workshop with stockist suggestions and home found alternatives for most things.
If you're a workshop organiser and you'd like to find out out more about what I can provide just email me, or if you'd like to be the first to know about upcoming workshop dates then sign up to my newsletter.